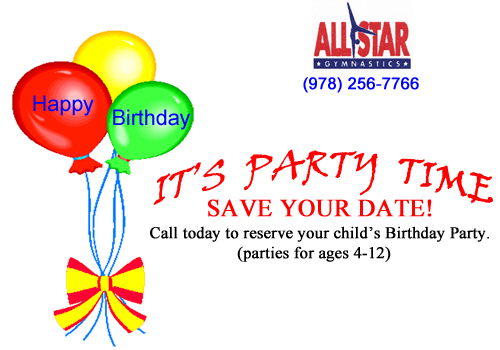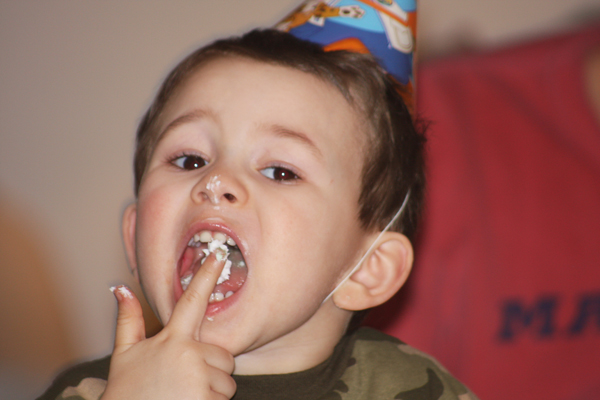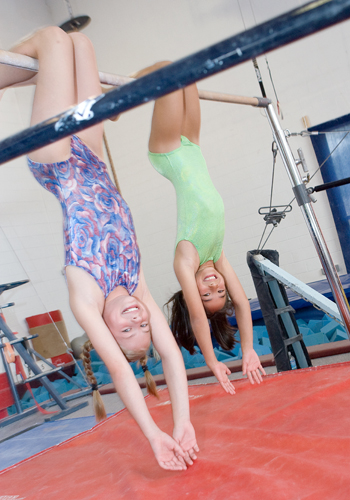 What's it like to Party at All-Star?
You get 2 instructors, 60 minutes of FUN in the gym, games, relay races, 40-foot tumbletrak, inground trampoline, rope swing, parachute, obstacle course and more! A party is a maximum of one-and-a-half-hours – approximately 60 minutes in the gym and 30 minutes in the party room. We supply the fun and you supply all the party extras (cake, candles, drinks, knife, table cloth, paper plates, utensils, cups and any other birthday items).
How many children can Party at All-Star?
For safety, a maximum of 20 children can participate in a single party. Children must be 4 years or older and able to participate without parental assistance. The Birthday child's parent is welcome to take videos and pictures with the instructors' permission at the end of the party. Other adults are not allowed in the gym or on the equipment.
How much does it cost for a Party at All-Star?
Up to 14 children costs $225 ($200 for current members)

$14.00 for each additional child up to 20 children

A non-refundable $75 deposit is required at the time of reservation. Balance is due 2 weeks prior to your party date.
When can you party at All-Star?
Parties are held on Sundays, at 1:00 or 3:00. Sign up now!
Instructions:

Pick up a Birthday Party Registration Form at the office,
or

click here

to print the form and bring it to the office.
Your guests will each need a Birthday Party Waiver.
If the above documents will not open on your computer, you may need a new version of the Adobe Reader,
which is available for free from
www.adobe.com